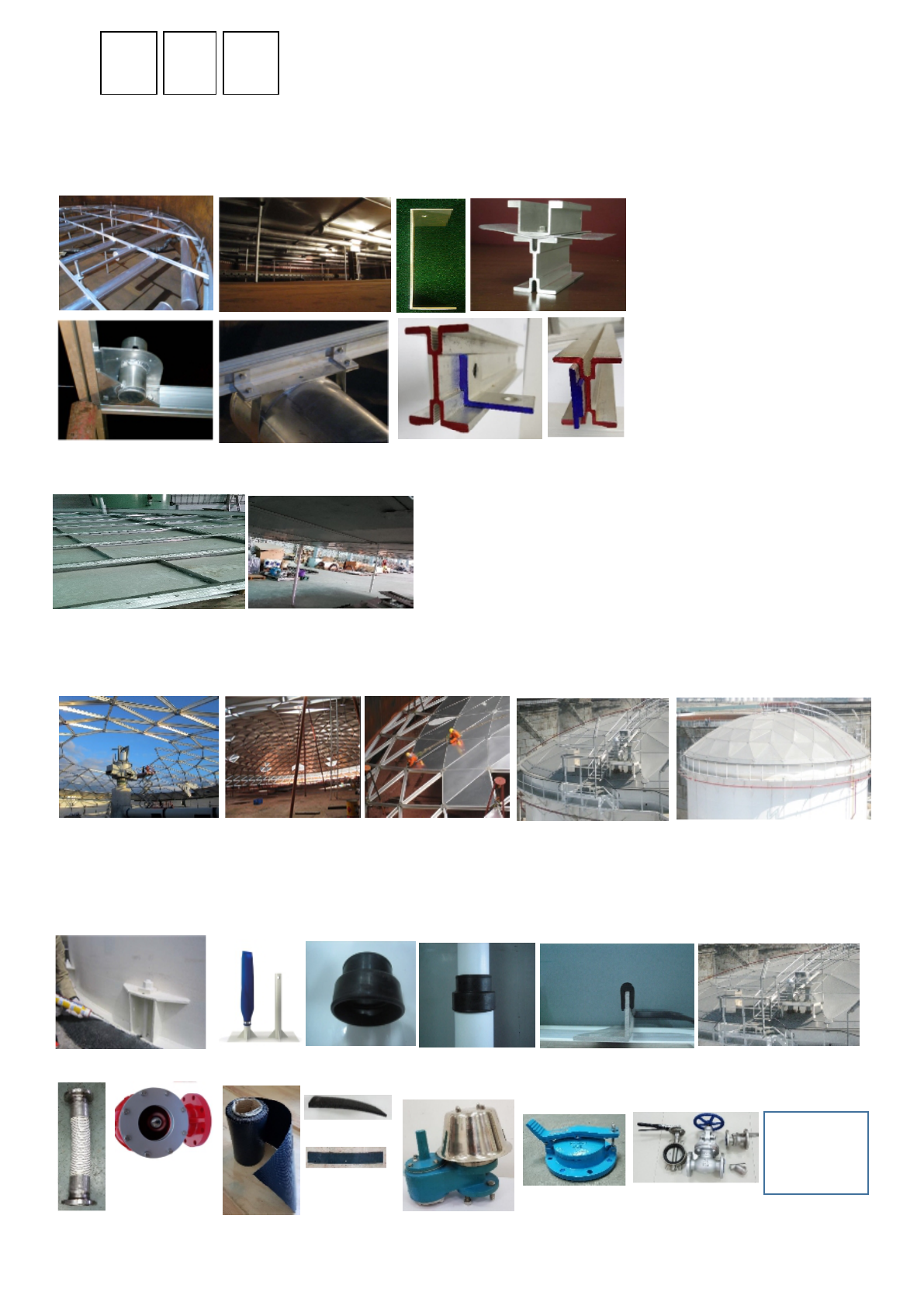 H
K
N
TankMaster®
sales@hkntanks.com.sg
hkn@hkntanks.com.sg
Heavy Duty Internal Floating Roof
"I" beam is designed for maximum sectional
modulus; together with strong rolled rim and
independent leg supports, making HKN
TankMaster AIFR the strongest in its class.
Special "I" beam is designed with blind chase
that prevents capping fasteners from
penetrating into vapour space thus preventing
emission therefrom.
All beam splices are designed as close tolerance
sliding fits, assuring straight and perpendicular
splices and joints at all time; this also greatly
facilitates installation and gives additional
strength at splices and joints.
Pontoons are independently mounted on the
Main struts and this eliminates pontoon cracks,
failures and drifting away in operation.
Aluminium Dome Roof
HKN TankMaster also offers a fully panelised
full contact aluminium internal floating roof
of exceptional quality and strength for years
of trouble free operation.
Heavy Duty Pontoon Type Aluminium IFR and Hybrid (Aluminium/SS) IFR
Heavy Duty Full Contact AIFR
Other Tank Accessories
HKN Tanks have years of experience with aluminium dome roof. It offers a dome roof of exceptional
quality, unique design and of great structural strength. Vapour tight design is also available.
Tank Chime Sealant
Leg Sock
Leg Cup Seal for Roof Legs
Roof Drain
Ball Float
Check Valve
Lip Seal for Manholes
Roof Compartments
Also
available:-
Other tank
accessories
Seal Fabric
Teflon, PU,
Neoprene etc.
Seal Wipers
Flexi-Composite
Hose for
Roof Drain
Dome Roof
Walkway and Stairs
PE, PU
Neoprene
etc..
P/V Vent
Gauge Hatch
Valves
and Strainers